P13 ACTIVITY – GENIKO LIKIO HORTIATI
P13. Deepening in the Holocaust of Hortiatis
In September 2019, on the occasion of the 75th anniversary of the Holocaust of Hortiatis on September 2nd 1944, the pupils of the Erasmus+ project of our school deepened in the history of the Holocaust.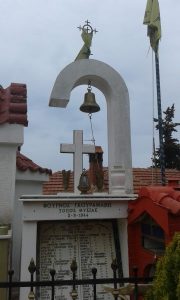 Let's go back to 1944. On the second of September in 1944, a group of guerilla fighters of ΕL.AS. attacked a small van with two Greeks which as usual were going to disinfect the water of Hortiatis with chlorine. When the van was near to the aqueduct, rebellions started shooting at it and killed both Greeks. This was the first attack. After 30 minutes, a second van with three Germans and two Greeks were also attacked. In this small fight two Germans were injured and one of them managed to escape and went to Asvestohori, a neighboring village. After these two attacks, the villagers asked the captain of the rebellions, Antoni Kazako if they should evacuate the village because they were afraid of the Germans but he said that they do not have to worry. The majority of the villagers stayed in Hortiatis and few of them packed their stuff and left Hortiatis. A few hours later, twenty trucks with German soldiers of Fris Soubert arrived and circled around Hortiatis. They started gathering the villagers in the square of the village and burning the houses. After that, they transferred them to the house of Evangelos Ntampoudis and burnt them alive. Another group was transferred to the bakery of Stefanos Gouramanis. They set a big machine gun and started killing everyone. Only two people managed to escape from the bakery. Lots of women were ravished and killed. This sad day 149 people were killed, 109 were small babies and women and 300 houses were burnt.
The Holocaust of Hortiatis reminds us that the woes of fascism and war stigmatize people's psyche and that the need for peace and reconciliation of all people remains timely.
The pupils of the Erasmus+ project of our school prepared a video about the Holocaust of Hortiatis:
References:
https://blogs.sch.gr/2lykchort/olokaytoma/
https://www.youtube.com/watch?v=avfe96lemFI