On 6 June, 2019 the students who were selected for C1 activity in Italy were given the link of the initial evaluation questionnaire. Link: https://forms.gle/Sn3Qw8cSrv1XMUzLA
On 10 June, 2019, the students who were selected on October 2018, were given the satisfaction and self-assessment questionnaires for all the project activities done since the beginning of the project. Link: https://forms.gle/uh6JxfcJEFNGoLuD7
On 11 June 2019 the students met to establish the programme for the next months. At this meeting some of them filled in the questionnaire.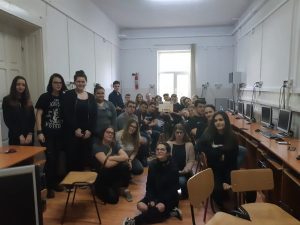 On 11 June 2019, Eduard Kontos began to work on the presentation of the activities we have done since the beginning of the project (September 2018- June 2019). The presentation was published on youtube: Erasmus Activity Report.
On 18 June, 2019 we had a meeting with the parents of the students who were selected to be members of the target group in May 2019.
On Monday, 24 June, 2019, 16 students from "Mihai Eminescu" National College together with Mrs Stefania Manea, coordinator of the Erasmus + Project "PRomotion Of Identity, Euopean Culture and Tradition", ref. no. 2018-1-IT02-KA229-047925_3, participated at "Nedeia Sanzienelor la Straja"(the 48th edition) to see how the local community celebrates "Sanzienele". The activity was disseminated on the Facebook group of the project on 30 June 2019.( https://www.facebook.com/groups/841958769470806/?ref=bookmarks)