P30 ACTIVITIES – GENIKO LIKIO HORTIATI
In February 2021 our school operated through online lessons and activities due to the pandemic COVID-19. We met with our partners online in order to discuss the plan for the C1 activities. As the physical activities C1 could not take place due to the pandemic COVID-19, we decided that the Italian school would organize two on line (virtual) activities C4 and C5 in March and April 2021.
P30. Presenting the Greek revolution of 1821 in famous paintings
In February 2021, on the occasion of the 200 years (1821 – 2021) since the Greek war of independence against the Ottomans, the pupils of the Erasmus+ project studied the Greek revolution in famous paintings and prepared a relative presentation. The presentation was planned to be shared with our partners during the on line activities C5 in April 2021.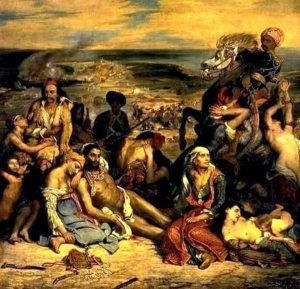 You can find the presentation at: