P22 ACTIVITIES – GENIKO LIKIO HORTIATI
P22.1. Presenting recipes with Chios mastiha
In June 2020 the pupils of the Erasmus+ project studied the traditional product "Chios Mastiha".
Mastiha is a natural resin that comes from an evergreen small tree, called Schinos, which is cultivated successfully in the island of Chios, in the Eastern Aegean Sea.
The name "Chios Mastiha" has Protected Designation of Origin (PDO) status in the European Union since 1997.
Mastiha has been harvested for at least 2.500 years since Greek antiquity. The first mention of actual mastic 'tears' was by Hippocrates. Hippocrates used mastiha for the prevention of digestive problems, colds and as a breath freshener. Roman emperors used mastiha along with honey, pepper and egg in the spiced wine conditum paradoxum. Digestive liqueurs, similar to Mastiha but made with grapes, were known as the Greek elixirs before the French Revolution
Nowadays mastiha has many uses due to its exquisite taste and flavor as well as its therapeutic characteristics; it is used in chewing gums, delights with mastic, mastiha liqueurs, ingredient of medicines. Also we can use mastic in several recipes.
The pupils of the Erasmus+ project studied recipes with mastiha and prepared a relative presentation. You can find the presentation at:
https://twinspace.etwinning.net/77604/pages/page/484364
P22.2. Dissemination of C3 mobility at the local press
Press release about the C3 short term exchange of groups pupils at the local press (issue 35) of the Municipality of Pilea Hortiatis.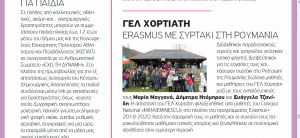 You can see and download the press release at the following website:
https://www.pilea–hortiatis.gr/web/guest/ournewspaper/documents/get_file/41067/NEA_35_LowRes144%20.pdf