P28 ACTIVITY – GENIKO LIKIO HORTIATI
In December 2020 our school continued to operate only through online lessons and activities due to the pandemic COVOD-19.
P28. INTERVIEWING THE INTERNATIONALLY REKNOWNED PIANIST MS.MARILENA LIAKOPOULOU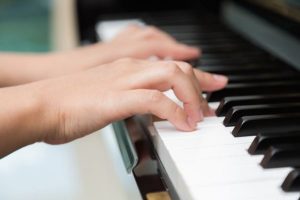 On the 23rd December 2020, the Erasmus+ pupils of A1 class of Geniko Likio Hortiati together with their teacher, Mrs. Dombrou, had the opportunity to talk to Ms.Marilena Liakopoulou in a video conference room. Ms.Liakopoulou, an internationally renowned pianist, holds the position of top piano player in the Thessaloniki State Orchestra. During our conversation, the students asked Ms. Liakopoulou questions about her personal and professional career, her goals, motivations and ways of achieving her goals as well as the difficulties she has faced, the successes and failures she has experienced in her long course. Her kindness and sincerity impressed and excited all of us. Certainly, many students were inspired by her professional development and her ethos.
Initially Evi Gantina and Alexandros Kekos presented a short biographical note on the life and work of Ms.Liakopoulou, and then the students asked their questions about her career:
Asteris Akrivopoulos: What does music mean to you?
Ms.Liakopoulou: Music is my whole life, it is the pill for my pain, it is my day, my breath, my daily life… I do not believe that man can live without music.
Evi Kazaki: What place do you think music has in the life of modern Greeks?
Ms.Liakopoulou: While the modern Greek constantly listens to music and has become part of his/her daily life, many times he/she does not understand it but listens to it because of fashion. I advise you to listen to all kinds of music but be selective and observe the way your body reacts to the notes. Besides, while I represent the genre of classical music, I often listen to other genres, such as jazz, traditional. If the music does not speak to you, then you should not pay due attention to it.
Evi Kazaki: How do you feel when you are on stage in front of so many people, doing what you love?
Ms.Liakopoulou: Before every event, throughout the preparations, I am overwhelmed with anxiety, or rather artistic anxiety, even today. But as soon as I get on stage, it disappears. There I am transformed and all the negative emotions give the baton to the joy and to an unexpected energy that gives me the strength to appear in front of the audience and to give my best.
Rania Zardava: Did your parents support you in your decision to take up music?
Ms.Liakopoulou: My parents were very supportive in the beginning. They saw my longing for music and very quickly enrolled me in the conservatory. In fact, my father had found a trick to help me not lose my appetite for study. He asked me to play the exercises for him, which I was bored with, convincing me that he found them very melodic and that he liked listening to me play them. However, when I turned 18 and studied Law, my parents thought I should pursue a career as a lawyer. Of course, I completed my studies, but without practicing this profession since music had already begun to win me over.
Rania Zardava: At what age did you realize that you wanted to pursue a career in music?
Ms.Liakopoulou: I realized this when I realized that, although I went to Law, I did not want to deal with this subject. I started my official appearances at the age of 19 and soon took a leading role in the state orchestra, replacing my retired teacher. There I realized how much I loved music.
Mikaela Andredaki: Do you think that your stay in Greece and especially in Thessaloniki favored your career or was it a brake on your development? Do you think that if you lived in a foreign city or in Athens you would have a different evolution?
Ms. Liakopoulou: Unfortunately, Thessaloniki cannot offer me sufficient employment. I give two to three concerts a year. If I did not have contacts with other countries and specifically France, and invitations to play in recitals abroad, the job in Greece would not be enough. Nevertheless, I do not regret living and working in Thessaloniki. I generally feel like one of the lucky artists who has been offered many opportunities.
Nikos Gersos: Would you advise a young person today to deal professionally with music and especially with classical music?
Ms.Liakopoulou: Although the field of music today is difficult and does not give many opportunities, I strongly advise you to follow your dreams in whatever you do.
Alexandros Kekos: You are a woman of Art, ranked among the spiritual people with special sensitivities and concerns. How much do the problems of our society affect you in your work and how much do you influence the society with your music in order to overcome the pathogenesis?
Ms. Liakopoulou: It is a fact that a musician is a sensitive chord that pulsates in every problem of society. He/She is the sensitive antenna that locates the impasses of society. With my music I offer consolation, a way out of people's impasses, an expression in the positive or negative emotions people feel.
Dimitris Deligiorgakos: As a person and as an artist, how are you dealing with the pandemic and the strict restrictions that arise from it? Have you been affected by the pandemic as a professional?
Ms.Liakopoulou: As a person, I also have difficulties with this whole situation. But I am more pressed as an artist, because I miss my audience. The public is my mirror. In their eyes and in their applause I meet my soul.
Katerina Andredaki: Doing an account, do you think you made the right choice in your profession?
Ms.Liakopoulou: Yes, for sure, without a second thought. Although during my long career I have encountered many difficulties and I have had many disappointments, my love for music helped me not only to overcome the obstacles but also to create opportunities. That is why I will conclude with this tip: Be a fighter. In life you will face many difficulties and adversities, but do not give up. Have faith in yourself and turn any failures into a springboard for something creative. If you follow this tip, your success will be certain.