C2 SHORT-TERM EXCHANGES OF GROUPS OF PUPILS
"GREEK CULTURAL AND LINGUISTIC HERITAGE KNOWLEDGE RELATED WITH EASTER TO KNOW SIMILARITIES AND DIFFERENCES WITH OTHER PARTNERS' HERITAGE" 2 GENIKO LIKIO HORTIATI (6 – 15 April 2019)
From 6 April to 15 April 2019 our school organized the C2 short-term exchanges of groups of pupils "Greek cultural and linguistic heritage knowledge related with Easter to know similarities and differences with other partners' heritage". The total days of activities were ten (10), three (3) days more than the number of the activity days of the project's contract. Twenty (20) Italian pupils, seven (7) more than the number (13) of the Italian pupils of the project's contract and twelve (12) Romanian pupils were hosted by thirty two (32) Greek pupils. The Italian pupils were accompanied by three (3) Italian teachers (one Italian teacher accompanied from 6 to 10 April and another Italian teacher accompanied from 11 to 15 April) and the Romanian pupils were accompanied by two (2) Romanian teachers.
C2.1. Activities on Saturday 06 April 2019
W elcome meeting of all the participants at the municipal hall of Hortiatis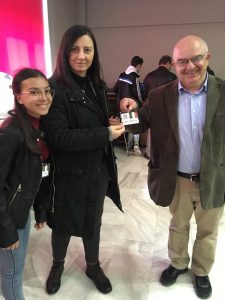 Guided walking and sightseeing in the settlement of Hortiatis.
The Greek pupils guided the Italian and Romanian pupils and teachers at the monuments of Hortiatis. You can find the description of the monuments at the following URL: https://twinspace.etwinning.net/77604/pages/page/484375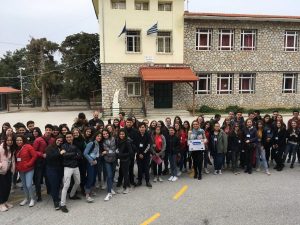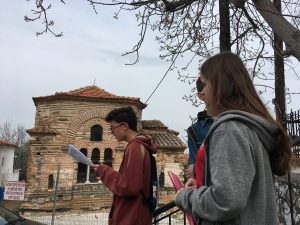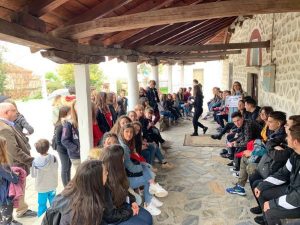 Watching the documentary of the Holocaust of Hortiatis prepared by the pupils of the 3

rd

Gymnasium of Hortiatis